SRX Pro 3U, 0 IP, SSD, 1TB, SBB41 Xeon
The SRX-Pro U3-series NVR Servers are designed to meet the performance and storage requirements of enterprise video surveillance deployments. Front-accessible, high-capacity hard drive storage ensures always-on recording, and provides for future storage expandability, while enterprise-class hard drives ensure maximum reliability and speed. The U3-series NVR server is able to support up to 80TB of video storage. Additional storage can be achieved with external storage devices (sold separately).

Rack mountable 3U chassis is designed for easy rack installations, while updated chassis design facilitates optimal internal air flow for added Server longevity and reliability. The powerful Intel XEON CPU allows the NVR to harness the on-board video capabilities of its DFI industrial motherboard, with versatile DVI-I and HDMI ports available for local viewing.

i3 International's superior SRX-Pro Server software is pre-installed and pre-configured for a plug-and-play experience. Software licensing is completely customizable to meet each customer's unique needs: from video security to intelligent video data analysis.
SRX Pro 2U, 0 IP, SSD, 1TB, SBB31 i5
The U2 rack mount is made for durability. Its long life cycle industrial motherboard is one of the key features. The U2 is a 2U size rack mount and it is designed to handle multiple IP cameras and long data retention: it comes with 3 bays of hard drives. Each bay can maximize to 10TB making it an 30TB system. The Operating System comes on a solid state hard drive running Window 7 Embedded. Running on Intel Chipset i5, the U2 powers all its components with a 400W power supply.

The 2 NICs allow the U2 to connect to a local switch such as i3's S243 or S81 for multiple IP cameras and the other NIC to the Internet without impeding your network.

For video backup use the slim DVD recorder or the USB (on the front panel) for easy to use memory stick storage.

U2 is built to run i3's SRX-Pro software; it is designed as a more compact chassis and a replacement of the 4i series server.
If more hard drives or longer retention of recording capacity is required the U2 can also fully integrate with i3's external hard drive devices (iS316).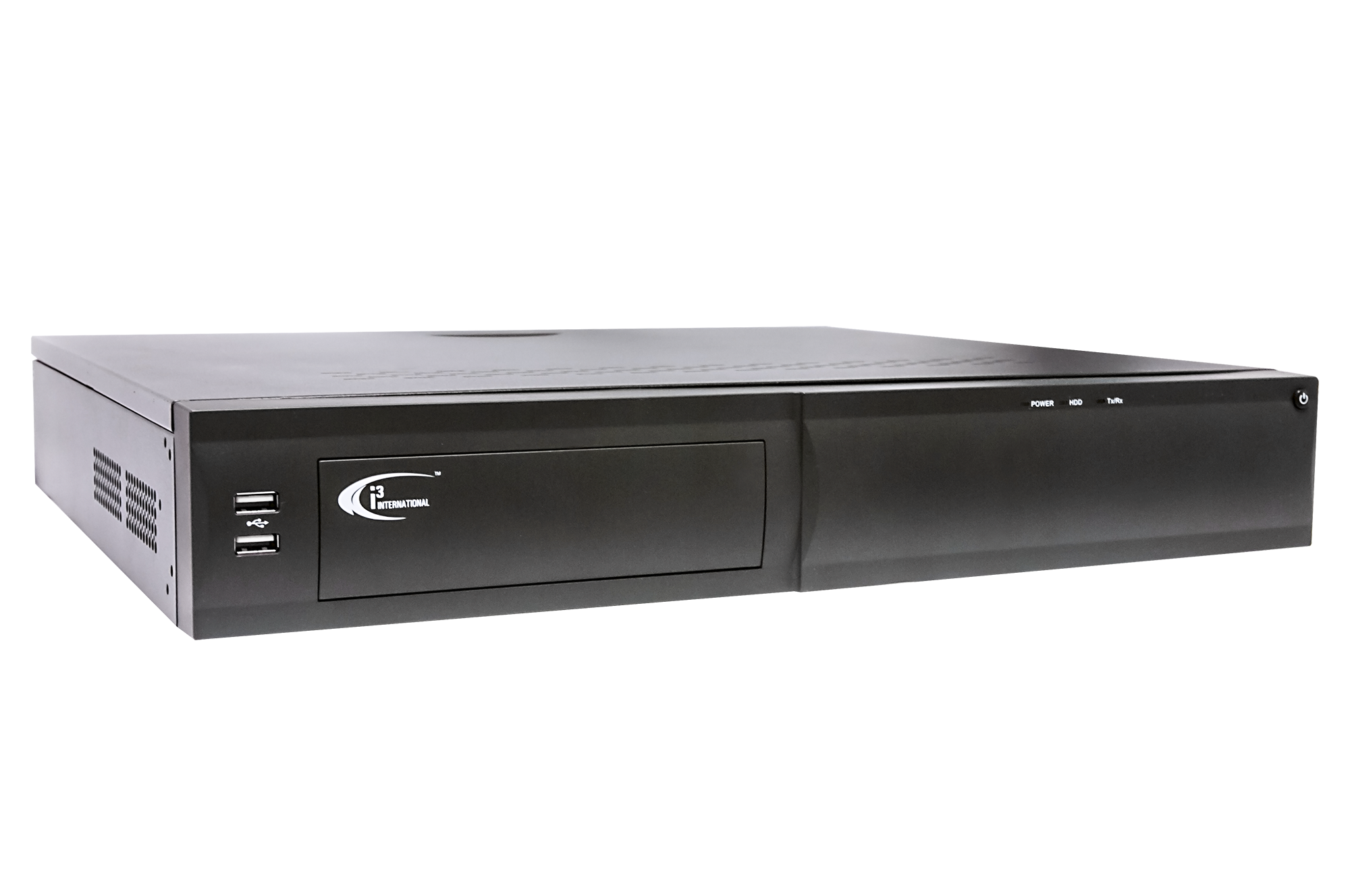 SRX Lite, 1U with 16PoE, 0IP, 1TB, DVD
The U1 is a cost effective network video recorder (NVR) that has built-in Power-over-Ethernet (PoE) switch capabilities able to support 16 IP cameras, eliminating the need, and therefore the cost, of an additional external switch. The U1 is a complete, robust NVR with Windows 7e operating system. As an option, two hard drives are available to a maximum of 6TBs of hard drive space for video recording. The U1 runs i3's Core version of the SRX-Pro software that enables CPU to easily handle the extensive functions and features of the software.

The U1 has a video output for both a VGA monitor and the latest HDMI monitors. It has a separate network integration card for an external IP connection for remote connections and viewing utilizing i3 VPC.
When it comes to support and services, the U1 comes with a solid 3 year parts and 1 year labor warranty excluding the hard drives.

The U1 is designed to be fully monitored by CMS (Cloud Managed Services) with a real-time health status on the system. The user can receive emails or go online to see the U1 status at anytime from anywhere.
16 CH 4MP EX-SDI 2.0 DVR
Record video: 240 FPS at 4MP – 1440p (15 FPS per Channel)

HDMI (4K), VGA and RCA (Analog) main monitor outputs

HD-SDI spot monitor output

Up to 4K (UHD) 3840 x 2160 monitor output

Auto detects camera type; EX-SDI 4MP, EX-SDI 2.0, EX-SDI, or HD-SDI

Automatically adjust resolution for each camera, each channel

Remotely adjust camera settings with UCC* on all 16 channels

16 Audio Inputs / 1 Audio Output

8 Alarm Inputs / 4 Alarm Outputs

Back-up to CD-DVD-RW, USB, or PC via AVMS remote software

Multiple HDD sizes/configurations available (Max. 50 TB internal storage)**

RAID configurable

Jog wheel control for easy searching

Rack-mountable with included brackets

UL Listed
*UCC (Up the Coax Communication) requires an EX-SDI 4MP DVR and camera equipped with UCC function. UCC allows camera adjustments (zoom in/out & adjust settings) to be made remotely through DVR.
**Max 50 TB Internal HDDs based on 5 x 10 TB HDDs (5 HDD Slots). When configured
this way either the CD-ROM drive or eSATA port must be disconnected.