Ax67R2 3MP IR Fixed Lens Dome
3's Ax67R2 megapixel IP camera features 3MP video resolution with 4mm built-in lens.

This camera delivers triple streaming performance and supports H.264 and JPEG video compression. H.264 codec allows for faster and more efficient video transmission over the network. This dome camera comes with digital Wide Dynamic Range (WDR), a feature that allows the cameras to adjust to varying outdoor lighting conditions and provides the best video quality despite the presence of high and low exposure areas in the camera's lens view. Ax67R2 camera requires PoE power and come with the Day/Night capability.

The Ax67R2 camera is very versatile and offers many practical functions ideal for both indoor and outdoor application, such as Smart IR. This moisture-, dust- and vandal-resistant camera is IP67-certified and IK10-compliant and comes in an aluminum casing, which makes it suitable for outdoor conditions, while also being perfect for the indoor installations.

Corridor view is available for users that would like to view a hallway or a single store aisle.
Ax62V - 3MP 3-9mm Vari-Focal Outdoor Dome
The Ax62V 3 MP IP dome provides the crystal-clear 16:9 full HD video for indoor applications in both day and night. The Ax62V employs a 1/3-type HD CMOS sensor providing excellent high definition picture quality with superb high sensitivity mode capabilities. Incorporated within the module are a host of security orientated features, including Wide Dynamic Range technology; Day/Night function and unique digital noise reduction.

In addition, the camera includes other key features such as H.264 compression standard. The Ax62V is designed to save installation time as mounting adapters for various environments are no longer needed.

Ax78R 6MP Fisheye Network
The Ax78R 6MP provides 4 simultaneous, independently controlled digital pan-tilt-zoom (ePTZ) video streams, which may be recorded or viewed live as well as a built-in microphone and speaker allowing two way communication.

This camera allows viewing video via standard web browser with no software required. Users of SRX-Pro software will be able to view and control all four video streams in SRX-Pro Server, SRX-Pro Remote and Video Pilot Client. Only one IP license is required to support all four video streams.

The Ax78R camera has no moving parts, reducing maintenance costs. This camera comes with the full 360 degree field of view so fewer cameras are required to cover any facility with minimal blind spots. Perfect for both indoor and outdoor installations, the (digital) wide dynamic range function of this camera series helps achieve superb image quality with for even the most challenging environments.

Built-in microphone and speaker allow for the two-way audio communication between the SRX-Pro Server site and the camera installation site, while microSD support allows for 'edge' video recording in case of the network failure.
AM52RM HD1080P Outdoor Vandal Dome with Motorized Lens
i3's HD-over-Coax AM52RM camera is designed to use existing coaxial cable infrastructure, while providing exceptional HD image, comparable to megapixel IP cameras. AM52RM offers incredible 1080P video resolution when used in combination with HR16. The additional advantage of the AM52RM is the acceptable coaxial cable distance, which can reach 750 feet, compared to no more than 300 feet CAT5e network cable distance recommended for IP cameras.

This true day/night camera comes with a 2.8 to 12mm motorized varifocal lens, which can be controlled through the camera's built-in OSD menu, through IE interface of the i3 encoders/standalone DVRs, or through SRX-Pro Server. Ax52RM comes with a built-in Smart IR which achieves superior images in low-light condition by automatic LED brightness adjustment depending on the object's distance. This moisture-, dust- and vandal-resistant camera is IP66- and IK10-rated, suitable for both indoor and outdoor installations.

The versatility of AM52RM IP camera makes it ideal for a range of video surveillance applications. Best suited for use with the i3's NVR in conjunction with HR16, the analog encoder.
Features
2MP HD Analog Camera

HD1080P Video Output

HD Analog Technology

True Day/Night

2.8 - 12mm motorized vari-focal lens

OSD menu, 3D DNR, Smart IR

Up to 40m IR distance

IP66 weatherproof & Vandal Proof
EX-SDI IDX Lite
Lite on price, heavy on performance. The IDX Lite Series is the perfect solution for those looking to migrate to EX-SDI from Analog or IP. Inspired by the EX-SDI Pro series, the Lite series brings Autofocus, 30 fps WDR, and Up the Coax Control (UCC) to those who demand more for less. End Users upgrading from an Analog based system will marvel at the full HD 1080p resolution while retaining their coax infrastructure with EX-SDI 2.0 technology. Try a Lite Series today, and you will quickly find out why it's becoming the go-to camera series of choice for price-sensitive applications.
1/2.8" SONY Starvis 2.13 Megapixel CMOS Sensor

1080p @ 30fps Over RG59 Coax

2.8~8mm (ƒ1.6) True D/N Autofocus Lens

EX-SDI 2.0, HD-SDI & Analog option

EXHD Lite 2.0

OSD Menu Control via UCC (Up-the-Coax Control), Built-in Joystick or CE-REMOTE

RVM (Rated Voltage Monitoring)

DC12V/AC24V

UL Listed
S7 IR w/ Heaters Vandal X
The tried-and-true industry standard. Our Analog cameras are full-featured, easy to install and robust. Perfect for replacement or large legacy systems.
1/3″ SONY 1.3 Megapixel CMOS Exmor Sensor

1000 TVL Resolution

2.8-12mm (ƒ1.4) True Day / Night Lens

6 High Intensity IR LEDs

IR Shield Technology

S7 Digital Signal Processor (DSP)

OSD Menu Control via Built-in Joystick or CE-REMOTE

3-Axis Adjustment

Built-in Heaters

IP68 Weather Rated

DC12V/AC24V

UL Listed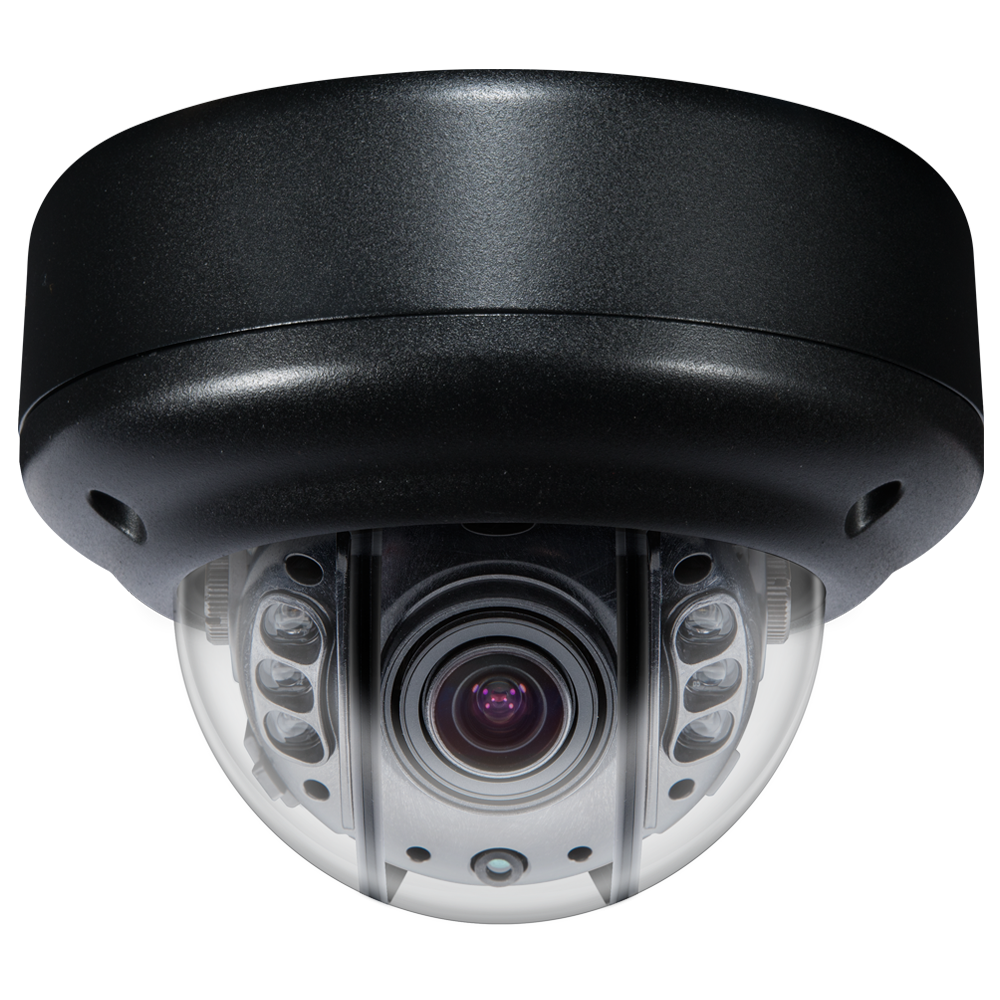 EX-SDI 2.0 IDX
The professional grade solution, period. With advancements across the board — image sensor, autofocus lenses, dynamic range performance, and low light sensitivity — the EX-SDI Pro Series delivers exceptional image quality in all lighting conditions. EX-SDI Pro cameras also feature Digital Overlap (DOL) WDR Technology which combines multiple exposures into one High Dynamic Range image allowing you to see more detail in both highlights and shadows. For the ultimate in performance, choose EX-SDI Pro.
1/2.8" SONY Starvis 2.13 Megapixel CMOS Sensor

Full HD 1080p Resolution

HD Over Coax Cable (HD-SDI, EX-SDI)

2.8~12mm (ƒ1.4) Motorized True D/N Autofocus Lens

Dual Video Output: EX-SDI 2.0 / HD-SDI & Analog outputs

EXHD 2.0 DSP (Digital Signal Processor)

OSD Menu Control via Built-in Joystick or CE-REMOTE

DOL-WDR @ 30fps w/ Simultaneous Analog Output

3-Axis Adjustment

DC12V / AC24V

Mounts to: Single Gang, Double Gang, 3-1/4″ & 3-1/2″, or 4″ Oct/Rd Conduit Boxes

UL Listed
EX-SDI 2.0 Outdoor True D/N IR Bullet Lite
Budget-friendly meets the top-of-the-line. The CE-BZ0HDL comes loaded with many premium features like Autofocus, 30 fps WDR, four high-intensity IR LEDs and DC12V/AC24V all at a price that won't exceed even the smallest of budgets. End users upgrading from an Analog based system will marvel at the full HD 1080p resolution while retaining their coax infrastructure with EX-SDI 2.0 technology. Installers will love the ease of focusing with the built-in 2.8~8mm autofocus lens and the ability to make OSD adjustments with Up the Coax Control (UCC). Choose the CE-BZ0HDL for price-sensitive applications that demand top-of-the-line quality.
1/2.8" SONY Starvis 2.13 Megapixel CMOS Sensor

1080p @ 30fps Over RG59 Coax

2.8~8mm (ƒ1.6) True D/N Autofocus Lens

4 High Intensity IR LEDs

EX-SDI 2.0 / HD-SDI & Analog option

EXHD Lite 2.0 DSP

OSD Menu Control via CE-REMOTE (*CE-REMOTE required for Zoom/Focus Adjustments)

RVM (Rated Voltage Monitoring)

DC12V/AC24V

IP68 Weather Rated